The bones, nerves and muscles of the body allow us to move. When spinal joints (or other joints of the body) aren't moving correctly, it's a sign that something else is going on. We use a helpful diagnostic procedure called Motion Palpation.
Spine and Extremities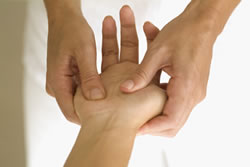 Motion Palpation is a fancy way of saying, "feeling with the hands and fingers." It's simple. We'll have you turn and bend and go through the range of motion of various joints of your body, both local and peripheral to your spine. As you do, we'll apply a light pressure to the joint being tested to feel how things are moving.
"Clunk!" "Click!" "Thump!"
Not only will we feel the joint, but we'll also listen as you move. Long-standing problems can often produce grinding sounds or other noises. These can often give us a clue about what's going on in the affected joint, directing the care we will be recommending.
Mainstream Diagnostic Procedure
Motion palpation is a popular diagnostic technique used by chiropractors since 1981. It quickly gained acceptance and is taught at chiropractic colleges throughout the world.